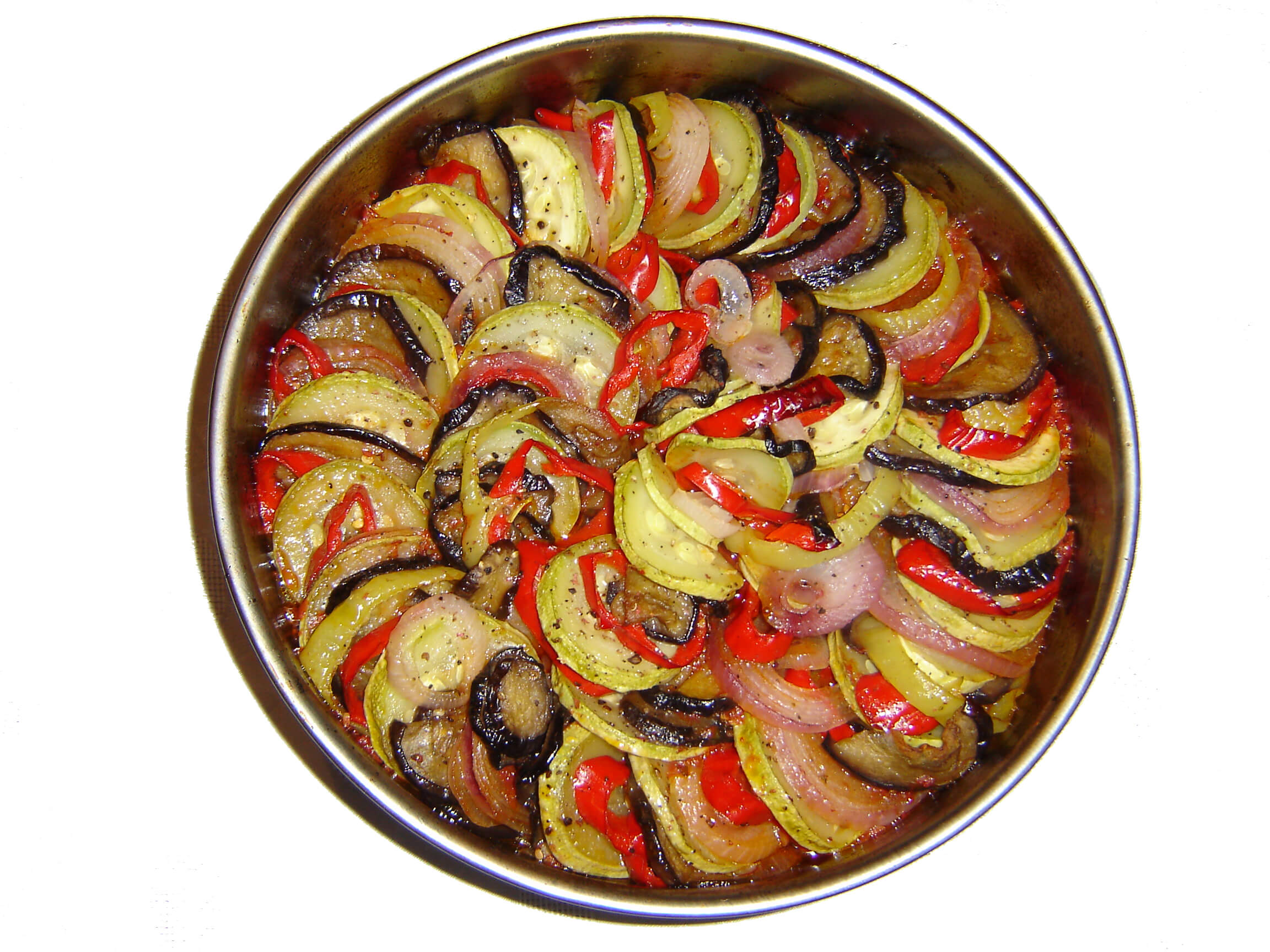 One my favorite kid's movies that I have watch numerous times with my daughter is Ratatouille – the one with the mouse in Paris who's got a knack for cooking. But what does the name mean? It is actually a traditional country dish form France. It originated in the south – the Provence area. Ratatouille (pronounced rat-e-too-ee) is made with stewed vegetables like squash, zucchini, eggplant and tomatoes. It also includes a mix of herbs like thyme and basil.
Choosing and cutting the vegetables the same size is key. This is so that it cooks evenly and it looks pleasant, too.
This hearty veggie dish is filled with nutritional goodness: Vitamins A and C. It is also a great source of fiber.
You can bake it in a dish or you can stir or sautee the veggies in a saucepan. In fact, the root words are ratouiller (to shake) and tatouiller (to stir). I prefer baking the dish in the oven – making a pretty circular design. It can be served with a lean protein like fish, chicken or grilled steak.
Bon apetit!
Ingredients
Olive oil
1 onion, peeled and sliced
5 cloves of garlic, peeled and chopped
Pinch crushed red pepper flake
1 zucchini, sliced
1 red or yellow pepper, sliced
1 yellow zucchini, sliced
4 vine tomatoes, sliced
1 small eggplant, sliced
Herbs (like thyme, parsley and basil)
Salt and pepper
Parmigiano Reggiano cheese, shaved (optional)
Directions
Preheat your oven to 400°.
In a skillet heat about 2 tablespoons of olive oil over medium heat. Once it's hot, add in the onions and let cook for a minute until they just begin to soften. Add in half of the chopped garlic, the crushed red pepper flake, and season with salt and pepper.
Transfer the onion mixture to the bottom of a baking dish, and drizzle with olive oil. Then arrange the sliced vegetables, alternating colors (one inclining on top of the other). Drizzle with olive oil, salt, pepper, remaining garlic and herbs. Cover with foil and bake in the oven for 30 minutes. If desired, uncover and sprinkle cheese over the top of the vegetables and broil (uncovered) for a few minutes until the cheese melts.