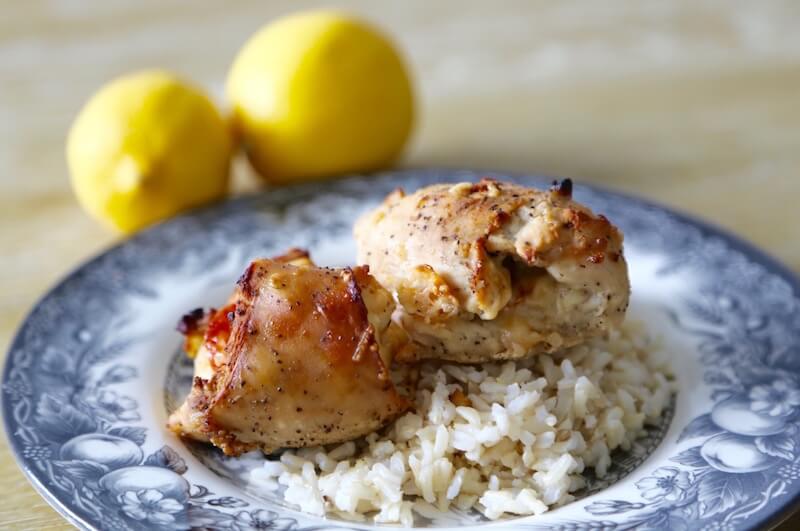 Prep Time: 15 min (+ extra 15 min for marinating)
Cooking Time: 20-25 min
Nutrition Info:
Serving Size:

2 Roll-Ups

Amount per Serving
Calories
183
Total Fat
11.6

Saturated Fat

3.4
Cholesterol
46
Sodium
154
Total Carbs
3
Protein
16
Ingredients:
8 chicken cutlets (you can have around 4 thin sliced cutlets out of ½ chicken breast)
2 tbsp. of olive oil
1 ½ lemon
5-6 garlic cloves, minced
1 tomato, sliced
About 1 cup (or 1 tbsp. per cutlet) of shredded cheese of your choice
Salt & pepper to taste
 Directions:
Squeeze the juice from 1 ½ lemon into a medium size bowl. Mince 2 garlic cloves and whisk them into the juice along with olive oil, salt & black pepper. Place chicken cutlets in this marinade and "massage" them a bit. Allow the chicken to marinate for at least 15 min if you are in a hurry but no longer than 2 hours.
Preheat the oven to 400 F and line your baking tray with foil. Once chicken is done marinating, fill and roll each cutlet with a slice of tomato, tablespoon of shredded cheese and a little bit of minced garlic. You can seal your roll with toothpick if necessary.
Place your roll-ups on a baking tray and bake them for 20-25 minutes.
Bon Appetite!
Chicken Breast Recipe with a Healthy Twist: Lemon Chicken Roll-Ups with Tomato & Cheese
When we say lean protein we think chicken breast…chicken breast…chicken breast… But oh my, how many of you are sick and tired of that tasteless dry piece of white meat? Pretty much everyone, right! So I've got the solution for you. Here is a pretty creative and almost fancy way to fall in love with chicken breast again without compromising its "dietetic" qualities. Please welcome our newest addition to "In Love With Fitness" Recipe Book – Lemon Chicken Roll-Ups with Tomato & Cheese!
Even with  the dish looking so damn cute, we are not cheating on our main principles of simplicity and spending as little time on cooking as possible. That's why we allow our  chicken to marinade for just 15 minutes while we are shredding the cheese and slicing tomato. Because, honestly, who would want to spend more time on cooking something than on eating it?
You rarely see cheese in our recipe but Lemon Chicken Roll-Ups with Tomato & Cheese is an exception! As a personal trainer, I recommend my clients to minimize their consumption of cheese especially when they are trying to loose weight. My argument is simple – it's too easy to overeat and exceed your daily fat & calories allowance! An inch size cube of cheese is 100 calories on average but who stops at 1 cube? Hardly anyone, so it may not be such a bad idea to avoid it all together. So why did I make an exception for Lemon Chicken Roll-Ups with Tomato & Cheese? Because chicken breast is extremely lean and a small amount of cheese can actually boost its flavor and add a creamy note to the entire dish with only 20 extra calories per roll-up. I also highly recommend you to use naturally lower in fat types of cheeses such as parmesan (or any hard cheese), low fat feta, skim milk or buffalo mozzarella. After all, having just a tablespoon of shredded cheese in every roll-up isn't the same as having a tray of cheese in front of you. Meaning you won't reach out for an extra cube when nobody's watching:)
Our Lemon Chicken Roll-Ups with Tomato & Cheese deserve to be served for a special occasion as much as to be taken to work in a lunch box! They are healthy, pretty looking and super yummy at the same time. Pair these roll-ups with a side of whole grains (like wild/brown rice, barley, buckwheat), wholegrain pasta, quinoa, grilled veggies or salad.