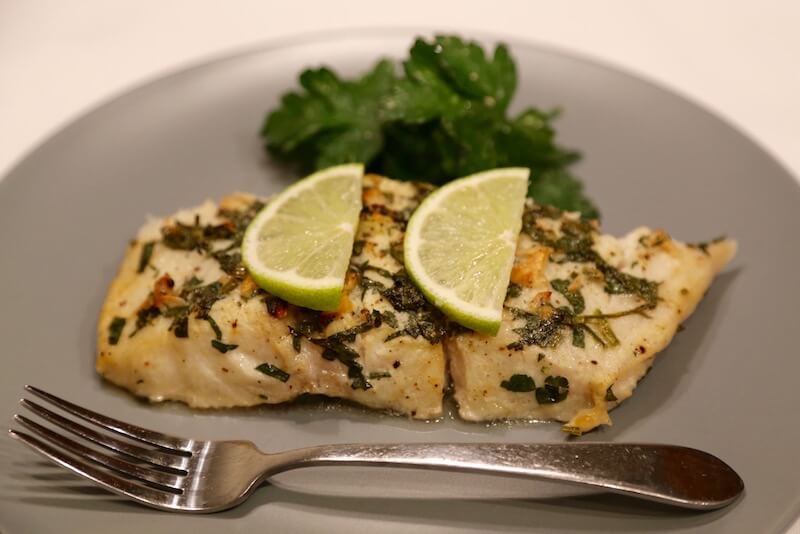 Prep Time: 10min
Cooking Time: 20-30 min depending on a size of a fillet
Nutrition Info: 
Corvina Fish Fillet (Plain without Marinade)
| | |
| --- | --- |
| Serving Size: 3oz (85g) | Amount per Serving |
| Calories | 88 |
| Total Fat | 3 |
| Saturated Fat | 1 |
| Cholesterol | 71 |
| Sodium | 49 |
| Total Carbs | 0 |
| Protein | 14 |
Ingredients:
Corvina fillet (around 2 lbs)
Marinade:
a juice of 2 medium size limes
2 tbsp of olive oil
4-5 garlic cloves, minced
½ cup (packed) of parsley, chopped
1 tsp. of honey or agave syrup
salt & pepper to taste
Directions:
Combine all marinade ingredients in a small bowl and mix well. Line your baking tray with foil paper and place the fish on it. Pour marinade on top of the fillet and spread it over both sides of the fish evenly.
Bake corvina fillet in a preheated oven over 350 degrees for 20-30 minutes depending on a size of your fish. Check frequently and adjust temperature if needed.
Bon Appetit!
The Story of Fish Allergy and Recipe Experiment on Corvina Fish in the Lime Marinade
The only reason you don't see fish recipes on our website is because I'm one unlucky girl who is allergic to fish… I can imagine how much easier my healthy food choices could have been if I would be able to eat at least some type of fish…but I'm too scared of experimenting! On a bright side, my body has no issues with most of the shellfish and even salmon eggs. The nature decided to leave me with something from a seafood department – with the most expensive stuff (ha!) – so I'm not complaining. The Russian girl can still indulge freely in caviar and blintzes while sipping on champagne:)
Let's go back to our corvina fillet in the lime marinade recipe! How did I come up with a recipe of something I cannot touch with bare hands or taste? Well, I was curious:) My husband bought the fish from Costco and was planning on pan frying the whole thing as he always did. And then he got busy with work so it was just me and corvina, corvina and me…
I knew that almost every fish went well with citrus and herbs so why wouldn't I try a marinade I've recently made for chicken breast? It was simple and in my head those flavors made perfect sense: lime, parsley, garlic, a dash of sweetness to balance the acidity, olive oil to combine the ingredients and boost the flavor… That was it! I took a risk and in 15 minutes my corvina fish fillet in lime marinade was inside of the oven. No fishy smell, just a delicious aroma of garlic and a note of lime was coming out of my kitchen. I almost wanted to try a piece but no…:(
My husband and the friend of ours were blown away to say the least! The recipe worked!!! The lime marinade was just perfect for corvina as it was for chicken so I can say that I have a slight idea of it tasted like.
I hope you'll enjoy this healthy recipe of baked corvina in the lime marinade and maybe try it with some other fish like salmon or sea bass.