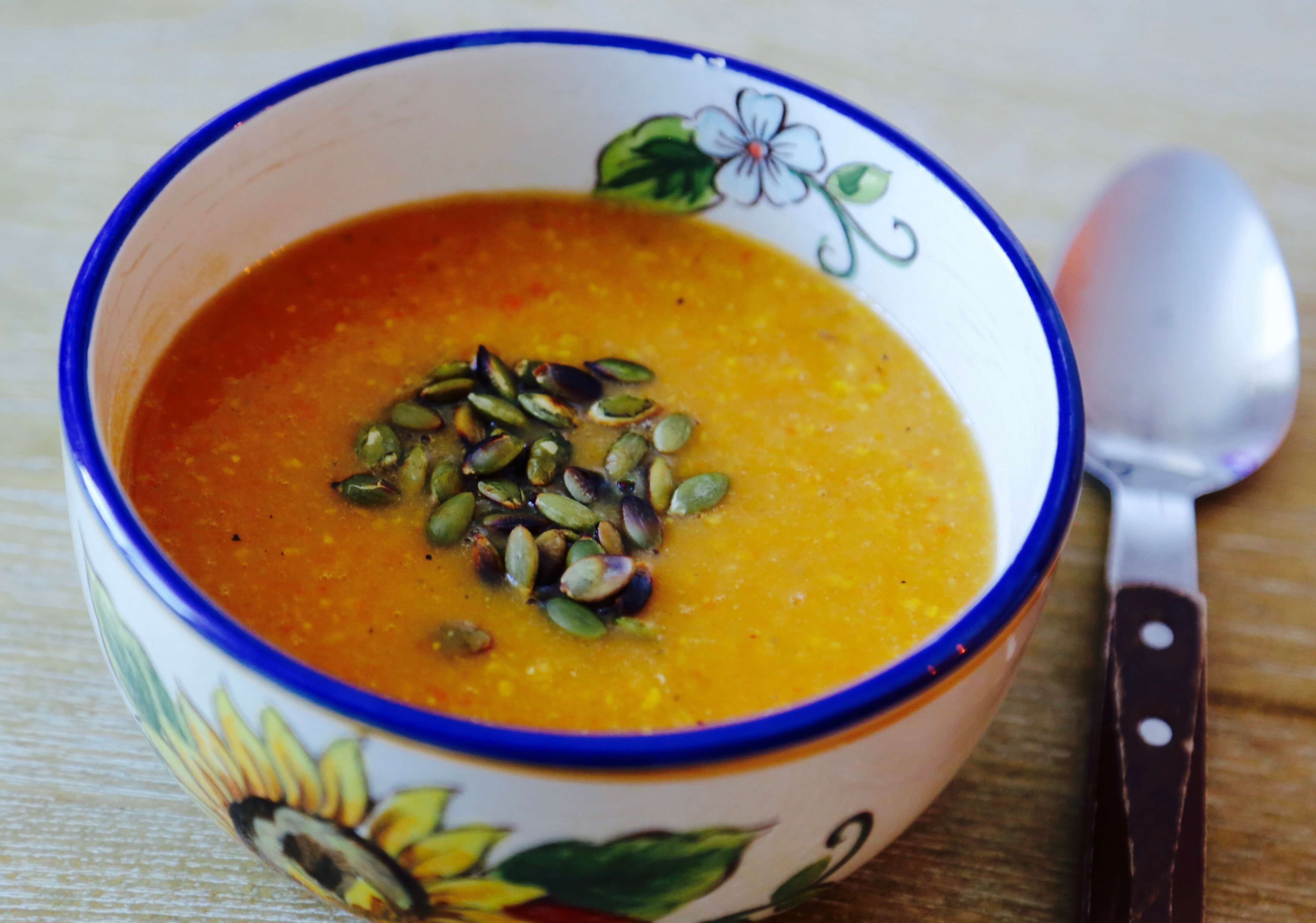 Prep Time: 20 min
Cooking Time: 45 min
Ingredients:
2 tbsp. of vegetable oil
1 large onion, diced
3-4 garlic cloves, diced
1-2 medium carrots, diced
4-5 skinless chicken thighs (with bones) or drumsticks
3-4 medium size potatoes, large cubes
Medium to large size butternut squash, peeled and cubed
1 cup frozen organic sweet corn
Salt and black pepper to taste
6 cups of water
1tbsp (per serving) pumpkin seeds, toasted
Directions:
Heat a large soup pot over medium-high heat and add 2 tablespoons of vegetable oil of your choice. Sauté garlic, onion and carrots for 5-7 minutes or until tender. Season to taste with salt and black pepper. Add chicken, mix the meat with vegetables and sear it on all sides for 3-5 minutes. You can season your ingredients again and add the water. Bring your soup to a boil, add potatoes and decrease the heat to maintain a simmer until chicken & potatoes are almost cooked. Skim the foam and most of the fat from the surface of the soup with a large spoon. Add butternut squash and corn then cook until squash is soft. Taste the broth and add more seasoning if necessary.
Once all your ingredients are cooked, take the chicken off your pot. Use a blender to puree your soup or any kind of kitchen appliance that gets this job done (like your smoothie blender for example). Bring the soup to a boil after blending for about 5 min and then turn off the stove.
Top your soup bowl with toasted pumpkin seeds before serving.
Bon Appetite!