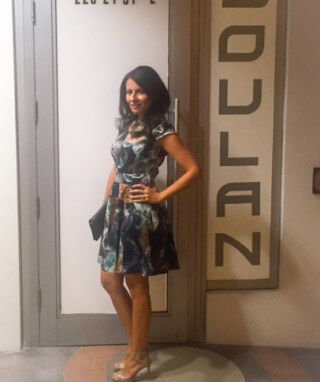 Being a working mom of 3 I was the first person to complain about everything including not having time to exercise, eating right, and so on. I am 43 years old which I would like to think is the new 33! Although I was always in the medical field and tried to stay healthy, my intermittent poor meal choices and lack of exercise made it very difficult to lose those last pounds. As I got older, I realized that my metabolism was no longer the same and I was no longer able to enjoy my guilty pleasures unless I dedicated my time to fitness.I started fitness training with Anna approximately two years ago. We have this love-hate relationship. I hate to work out but I love the results! Although I do complain and whine, she continues to motivate me by changing routine, locations, equipment, etc. She makes it as convenient for me and my schedule as possible. We discuss healthy eating and recipes in between reps and of course throw in some fashion and some laughs! Like most working moms of 3, I do have a hectic schedule at times, however, starting fitness training with Anna definitely motivated me to make changes in our lives.
---
It is difficult to please everyone at dinner when you have two teenage boys and a 6 year old girl. I have to get creative. I have incorporated fruit smoothies in our daily routine with added greens. This way, I am not too concerned when they skip veggies at lunch in school. I have made substitutions using almond flour when baking, coconut milk for regular milk, sweet potatoes for regular potatoes, etc. Overall, our dinners look completely different today, lots of color on the table, fresh veggies, salads, grilled meats, fish, and chicken!
My husband started a fitness routine as well, together in a small group of friends. They motivate each other and are each other's competitors. My two boys started a fitness routine at the gym. I make a healthy lifestyle an important part of our lives and I feel that by doing this, it makes it natural that they want to do it as well. Although we have days of indulging, we never make it an issue, we just continue fresh the next day and although this may be a cliché, it is never a diet, just a lifestyle now.